Lucas Leffler
Lucas Leffler — In the search of the hidden treasures of the medium


TBILISI PHOTO FESTIVAL X FUTURES




Interviewed by Ana Gabelaia


Can you introduce yourself ?
My name is Lucas Leffler, I am a Belgian photographer who works and lives in Brussels (BE).
I don't have a fixed visual language, but rather I am developing a photographic practice which tries to expand to sculpture or installation. All my projects have this common base that they come from an experimental process.
What was your first introduction to photography, and how would you describe your relationship with the medium?
I was introduced to photography while I was studying media. I was 18 years old at that time and I had a vague idea to do journalism. I studied the photo medium theoretically through history and technical lessons and these are what drew me into photography, much more than its expressive potential, actually. With time, the technical and historical interest I had for this medium shaped my work into an experimental practice.
My relation to the medium has to do with a new materialization of the photo process. For a generation, photography has experienced a noticeable tendency towards the re-materialization while digital culture has imposed itself. Many photographers practice an archaeology of the medium, launching attempts to reconnect with nature and the work of the hand.

Your project 'Silver Creek' investigates and revisits the legend-like story that took place a century ago. Experimenting with the medium and how it interacts with the story itself is another big part of the work. Can you tell us more about the project, and what was the working process like?

I started this research with a documentary approach, which took the form of a publication launched in 2019 (Zilverbeek (Silver Creek), The Eriskay Connection 2019) and then I gave it a much more experimental dimension with prints with mud and steel. Since then this project became a base for a set of experimentations, I see it as a pretext to a never-ending search for photography's materiality.
This work dates back from 2017 while I was doing research on Belgian photography factory Agfa-Gevaert. I had access to the historical archive of the company, and I was fascinated by the technical production of the silver gelatine emulsion. I was also interested in silver recovery techniques used by industry to get back the metals from old used fixers.
There I found an article explaining the story of this creek, in which Gevaert used to dispose of wastewater. These waters were silver-containing, and a strange chemical reaction made the metal go within the sludge of the creek. Between 1920 and 1950 a worker at Gevaert made a business in filtering silver from these muds. He earned enough money to quit his job at the factory and run this business for 30 years.
When I think about a mud which contains silver-element, I speculate on the possible idea that we can use it to print an image on it. However, this idea is actually not possible because this creek is not polluted anymore today. I thought this idea of using the mud from the creek to materialize images of the creek itself was a poetic way to reactivate this past story of pollution. In order to make it possible, I add silver-gelatine product in the mud to make it photosensitive.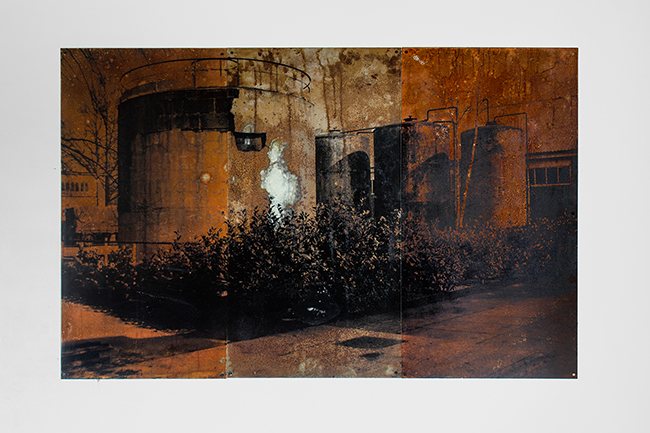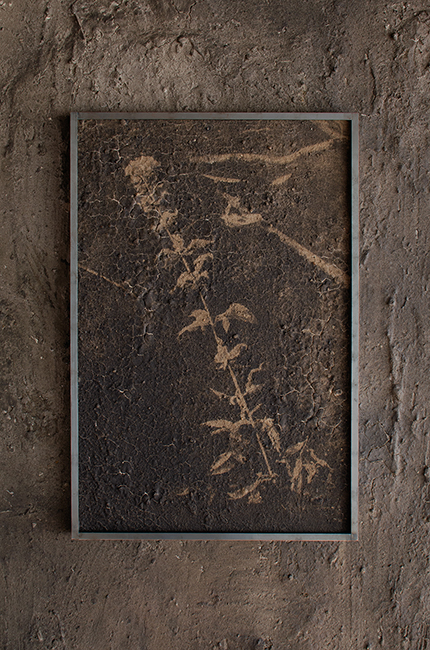 Silver Creek. Lucas Leffler. 2017 - 2020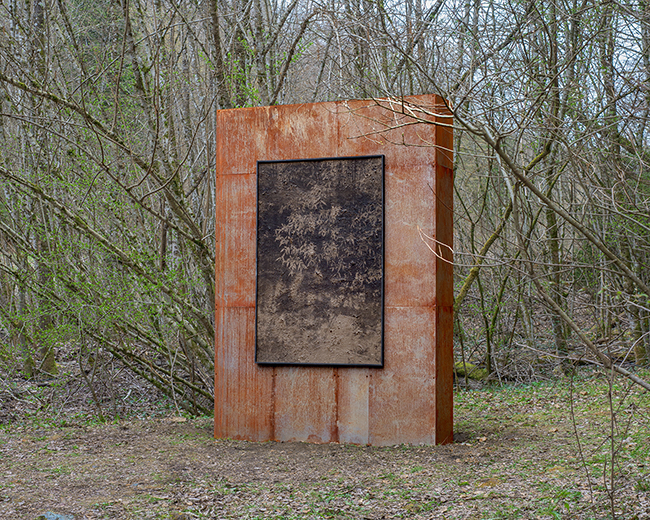 Silver Creek. Lucas Leffler. 2017 - 2020
Another project of yours that I'd like to talk about is the one you started during the pandemic. The feeling of being stuck at home without knowing what tomorrow will be like became familiar for the majority of earth's inhabitants and inspired new art projects as well. In your case, you turned the lockdown project into a game, playing with the everyday objects and transferring the space into something else. I like the humour and lightness behind the images, I'd like to hear more about how the project was made, and how are you going to continue it under the changed circumstances?
Back in March 2020 I was confined in Brussels where I live and work. Home-Play consists of images I took in my living place, a shared house in the north district of the city, where I live with other roommates.
I started to make still-lifes with random objects, to stage strange situations. The only constant is that I could not go outside my place to make images.
In a way, the challenge of this project is to stay creative and productive when you are locked up. I saw it as a pretext to reinvent the daily routine, to play with the environment and to recreate it.
I refer to Marcel Proust, who said: The real voyage of discovery does not consist in seeking new landscapes, but in having new eyes. I like this quote very much because it refers to the gaze, which is primordial in photography. In a way, this gaze matters more than the subject of the image.
In a way, the idea of this project is not so much about creating an imaginary world in which we can escape. Rather, it proposes a way to stay creative as a photographer in a limited space you are used to living in and to seeing every day.
I would love to make a publication out of it, but I don't have enough images. As every photo comes from an initial idea and a staging which might take a lot of time and I didn't take more than 10-15 images in total. For the moment I leave this project open, and I hope I will get back to it sometime. I am sure I will, but at the moment I couldn't really say when.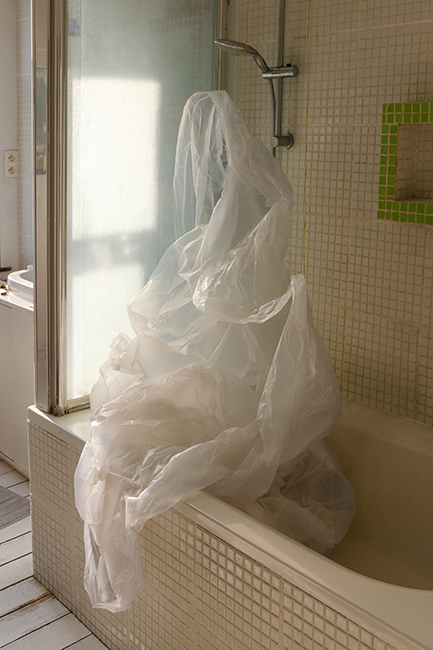 Home-play. Lucas Leffler. 2020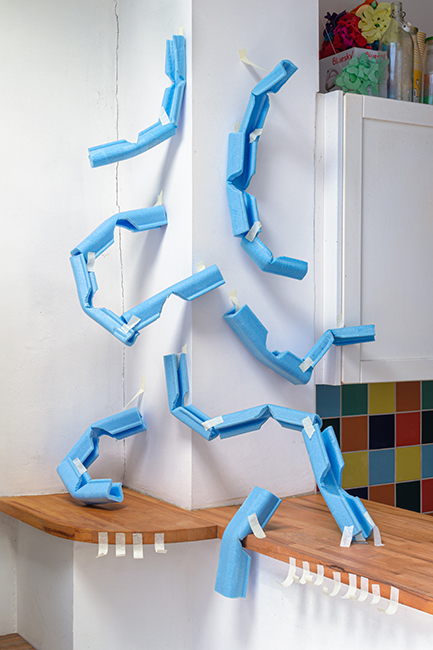 Home-play. Lucas leffler. 2020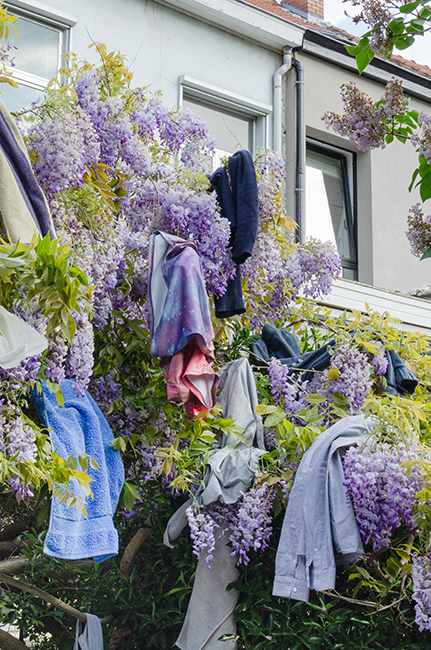 Home-play. Lucas leffler. 2020
What do you like the most about your profession?
I like to have projects in mind and to live for it. I love to wake up with ideas and to spend the day realizing it until the night. It also has to do with the experimentative aspect of my work, I think. I fantasized about an end-result, and this aspiration becomes a driving energy. It leads me to a never-ending creation until I get what I have in mind. It can be a photograph I want to build, a sculpture, or a book. But usually it comes from a desire to create something.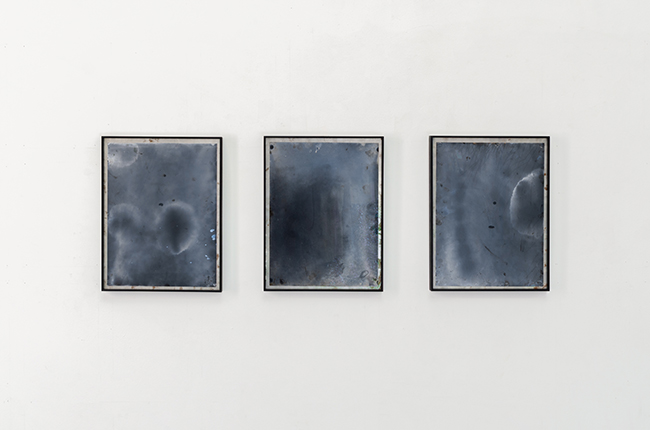 What do you consider to be the biggest challenge of being an artist?
I think the biggest challenge I feel in my artistic practice today is to find a balance between reflection/creation on my work but also to find the time to do everything that is on the side of it (administration, diffusion, logistic, etc). And I am especially thinking about the communication of it.
We live in a period where we need to communicate a lot online if we want our projects to be seen, and this is actually a big part of work I didn't imagine when I started to develop my artistic practice. Of course, it should not take over the time spent on your work, but still it is something important to do if you want your work to be seen.
Cover image: Home-play. Lucas Leffler. 2020






This series of articles are published in order to create new artistic opportunities for the Futures Talents - the photographers that are part of Futures platform. In 2020 Tbilisi Photo Festival has joined the FUTURES - Europe based photography platform co-funded by the Creative Europe program of the European Union. Futures bring together the global photography community to support and nurture the professional development of emerging artists across the world. The project implemented in partnership with Tbilisi Photography & Multimedia Museum.