Joud Toamah


Joud Toamah - An Image Amidst the Heart


TBILISI PHOTO FESTIVAL X FUTURES




Interviewed by Ana Gabelaia





Every project I'm going to ask you about in this interview is somehow connected to the concept of memory, questioning and exploring it from different angles. If I may ask, what is it about this matter that interests you the most and how did it become the center of your artistic research?
Indeed the concept of memory is a red thread that is present across my practice. I often start from a personal and emotional place. Remembering moments, places, stories and elements from my childhood, or times I lived which incubates personal mythologies that find its way back in different ways. Like an anchor, or a seed that births different possibilities of relating. I'm interested in various forms of memory, like remembering, forgetfulness, erasure, etc.. Each process and each work relates to the time and context of its creation, the environment, and what I feel and need at the time. There're always long moments of silence, long moments of feeling intense grief, anger, commitment, seeing, imagining and remembering. It's important for me to take time and place to build an inner and outer sanctuary where ideas can get birthed.

From the project 100 Days. Joud Toamah. 2018 - ongoing
Can you tell us about the ways you use Photography in your work?
Photographs came to me as I was yearning for an image that would visualise a moment in time that I hold dear, and as I was searching for words to speak with about something unspeakable. I drew that moment and those words, I collaged them, I found an image that could resemble them and created new images with them. From there I started to pay more attention to already existing photographs and the many stories and lives they carry. Photographs are powerful mediums, loaded with lots of emotions, sorties and histories. I approach photographs as a starting point for further visual research in form, material and atmosphere, to express ideas and emotions through. The way photographs are layered, allows many possibilities for telling stories, relating and exploring ways of expression.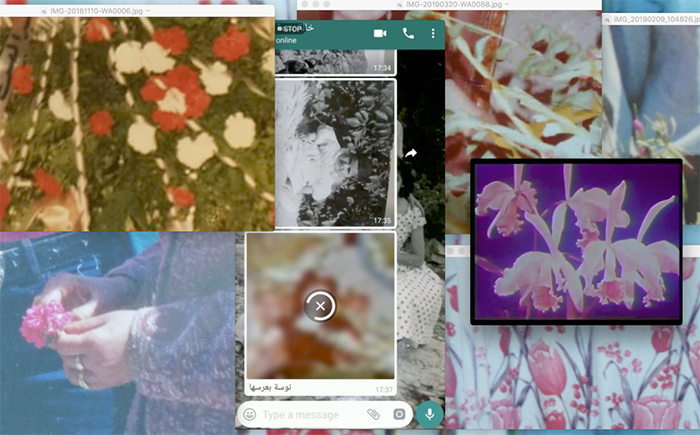 Traveling Images, an Image amidst the heart. Joud Toamah. 2018-2019
Your project 'Archive of Traveling Images, an Image Amidst the Heart' gathers and re-archives the images - family photographs of Syrian people in and outside of Syria. Important aspect of the concept is the path that the single image is going through until becoming a part of your work. Can you tell us what was the aim of this project and what's the working process like?
In 'Traveling images, An image amidst the heart'. I lay open the process of collecting digitised images of family albums inside Syria and in the diaspora. The video captures acts of taking cell phone pictures, scanning, uploading, searching, cutting, pasting, renaming, compressing, downloading, forwarding, creating collections and narratives within the private and the intimate. We see multilayered compositions which perform aspects of reflecting on processes of fragmentation and reconstruction that the images, and our relations go through in their digitalising and circulating stages. Through these layers I also explore how to protect privacy, how much access to give and to whom the stories can unfold to. The video records acts of witnessing intimate acts of resistance, preservation and what is lost due to forced distances and violence of the dictatorial state and neighbouring and international powers. The process of this work is a collaboration with photographs and their owners, everyone that I meet in the process of collecting, feeds and nurtures any work or idea. I'm inspired by these meetings I have with the owners, either physical or digital, and what each relation gives me - the stories and knowledge. By connecting this communal aspect with my emotional and sensorial memories, the images and videos I create contain collective and personal references.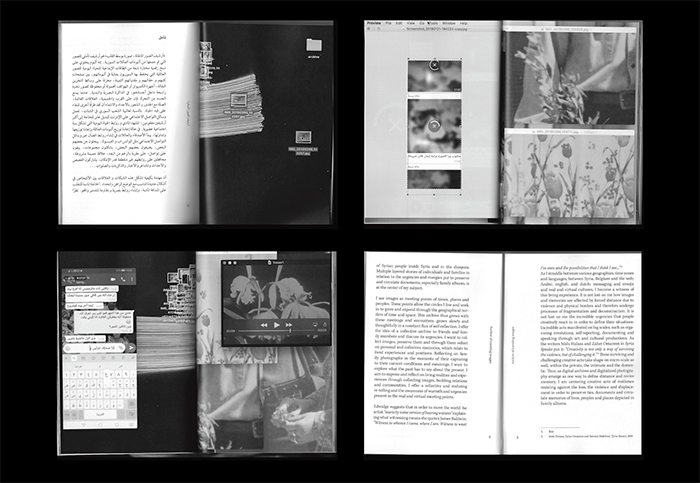 Another project of yours, '100 Days' focuses on the memory and how it can be preserved or erased. The project consists of several stages, all experimental, starting from the one you've done on yourself and ending with an experiment with an AI program. Can you talk about this experience more precisely?
'100 days' is an ongoing visual research project on acts of remembrance and forgetting. It emerged from repeated interactions with one image which depicts a dear memory of mine: a moment in the old city of Damascus in 2010 between 7 and 9 o'clock in the morning. Each stage in this process—from drawing to manipulating to AI image-generating—concerns an aspect that affects our relation to visual memory, namely its accessing, recognition, preservation, retrieval, reconstruction and erasure. These processes live in the non-linear relation between the digital and the physical. Different materials and methods in constant dialogue with one another influence each other through feedback loops, reinterpretations and reflections, with each phase in this process becoming an extension of the other, much like our intimate relationships with acts of remembering, holding on and letting transform. I was recently able to further develop this work with another stage called 'Sharpening' where I was reflecting on the translation of the digital image into the printed pages of Typp magazine.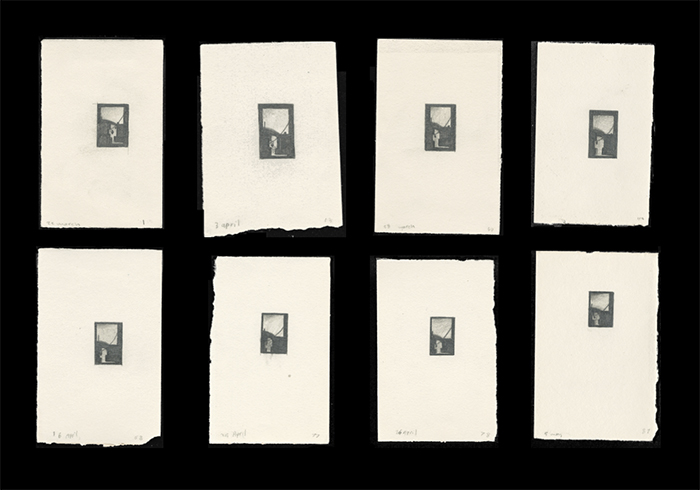 How would you describe the importance of socially engaged art and what do you think is/can be an artist's role in raising social awareness?
I believe all art is political, that in itself is a political act even when one says it's not. All of us exist as political entities intertwined in our everyday lives and relations. Everything summoned into the world by artists is politically and socially engaged, simply because we live and share spaces and times with each other and our surroundings. I think it is a decision that each person makes on how to approach these positions and relations from their respective contexts.
Are there any future projects that you would like to share with us?
Yes, I'm in the researching phase for a work I'm developing for FOMU's covid working grant. The goal is to create an image or sequence related to the current precarious times. I'm exploring different ideas and techniques, studying relations to distances and notions of gatherings and meetings.

Cover image: Traveling Images, an Image amidst the heart. Joud Toamah. 2018-2019.

This series of articles are published in order to create new artistic opportunities for the Futures Talents - the photographers that are part of Futures platform. In 2020 Tbilisi Photo Festival has joined the FUTURES - Europe based photography platform co-funded by the Creative Europe program of the European Union. Futures bring together the global photography community to support and nurture the professional development of emerging artists across the world. The project implemented in partnership with Tbilisi Photography & Multimedia Museum.